When Hunter S. Thompson died Tom Wolfe told the Sunday Times about his favorte encounter with the Good Doctor.
Wolfe was working on the text that would eventually become The Bonfire Of The Vanities. He wanted some advice on how to make fact into fiction and fiction into fact. Seeing a good chance for some free drinks, Hunter said he'd meet Wolfe at the Four Seasons in New York.
When Hunter arrived at the fancy restaurant he was carrying what looked like a big spray can.
"What's that," Wolfe asked.
"It's how you win," Hunter replied.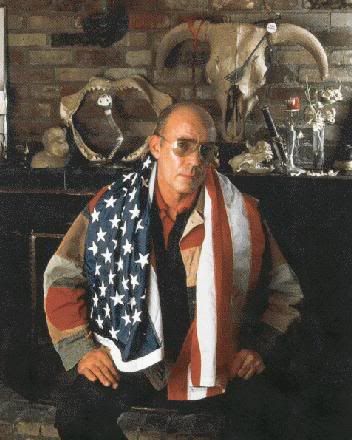 The meal progressed until it was halfway between the meal and the desert course - at which point Dr. Thompson pushed the button on the top of the can - it emmited an ear splitting noise that literally sent almost all of the chi chi diners running screaming from the restaurant.
It turns out the can was an emergency boat beacon - the type of thing that allows a sinking ship to be heard for miles around on the open water.
Sometimes I feel like Dr. Thompson, just making random noise because it's fun to see people run in horror. Yet, I know it can't help me make friends so part of me wishes I'd grow out of it.
On the other hand maybe it is how you win.
Bart